40 years later, Stretch Armstrong is still one of the most coveted toys by kids today
Stretch Armstrong's got longer legs than even the toy's creator intended.
Stretch Armstrong didn't begin as a popular comic book hero. He wasn't a cartoon character. No kid had even heard the name until the first ads rolled out that asked kids, "How much can you stretch him?" That's all it took for Stretch Armstrong to become a top toy icon.
Originally manufactured in 1976, Stretch Armstrong was born in the idea book of toymaker Jesse D. Horowitz in 1974. His plan was to make his "stretch man" in two body types: the muscle-bound blonde we know today, and a sumo wrestler that proved too round to be effective. To achieve the stretch effect, his first thought was to use small springs. It proved impractical, detracting from the toy's elastic feel and posing a risk of cutting through the stretchy skin. It took just the right chemistry to get Stretch Armstrong rubbery and ready for market.
The solution in the end? Corn syrup. That's right, if you were sweet on Stretch Armstrong, it's likely because you sensed the thing itself was made of sugar. They boiled the sweet stuff down and presented the final product to the president of Kenner toys, Bernie Loomis. He fell in love with Stretch and generations of kids who followed did the same.
The original Stretch Armstrong was marketed from 1976 to 1980, quickly becoming one of the most-coveted toys by kids each Christmas. Last year, Hasbro felt it was time for Stretch to bounce back, celebrating 40 years of the toy icon by releasing an updated version. And what do you know, in 2017, Stretch Armstrong has yet again landed on the Must-Have Toys for Kids list. You can find the toy at retailers like Target or Amazon for $24.99. It's all the proof you need that a classic toy doesn't need the backing of an entire movie franchise like Star Wars to connect with kids. It just needs to be unlike anything else, really freaking cool and especially fun to play with when you're with other kids. Forty years later, that's still the appeal of one of history's most iconic toys.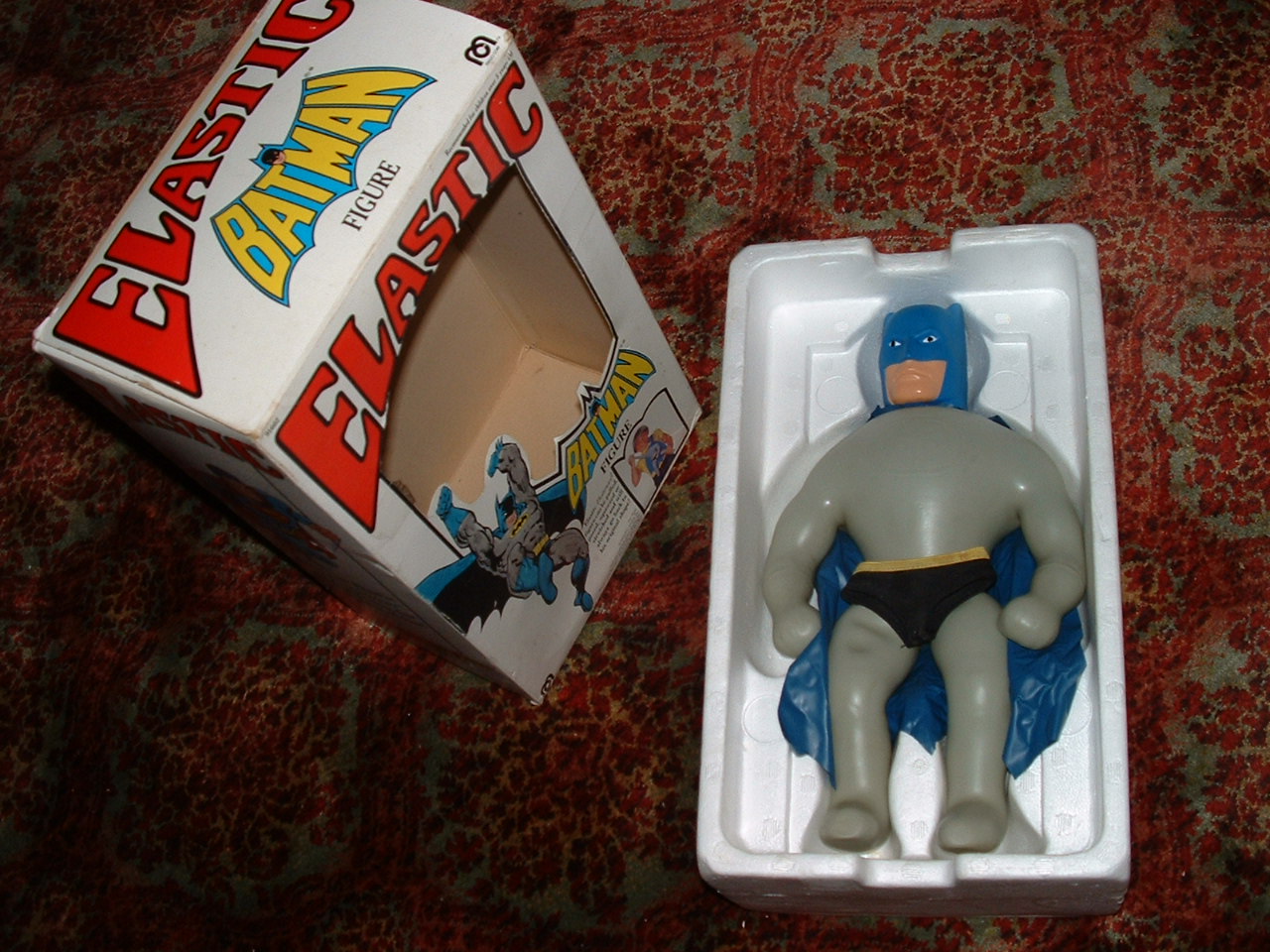 Image: stretcharmstrongworld.com
After Stretch Armstrong became popular in the United States, his legacy stretched around the world, resulting in 67 different versions of the toy. This includes the hit Stretch Armstrong Monster toy, as well as superhero figures like Batman and Hulk. Even Donald Duck became a stretch man. You can see a bunch of different Stretch Armstrong toys here.
Of course, after Stretch Armstrong hit with kids, companies tried to capitalize by making movies and TV shows. The first was Disney, whose planned film in 1994 cast Tim Allen as Stretch, a research scientist and single dad who gets "stretchy powers" by a fluke in his lab. It never made it to production. Next, Danny DeVito was supposed to be Stretch, but he told Disney his one condition was they couldn't make his height a joke in the script. Eventually, Disney sold the movie rights to Hasbro, then they went on to Universal. Stretch never managed to make it on either the small or big screen.
Until this year, that is, when Netflix successfull debuted the first-ever Stretch Armstrong TV series. It's called Stretch Armstrong and the Flex Fighters, and it's a kids show that imagines Stretch as a teen boy who gains superpowers and fights monsters alongside his superhero best friends. It's not quite the storyline some of us imagined when we were kids, pulling Stretch Armstrong's arms as far as they would go, but its successful production does at last confirm that Stretch Armstrong's got longer legs than his singular stature as a toy icon suggested for so long.
Weekdays at 8 & 8:30 AM, Sundays at 1 & 1:30 PM
*available in most MeTV markets
0 Comments
Be the first to leave a comment!