The Facts of Life paid tribute to Grease by transforming the girls into Pink Ladies
The hit musical turns 40 this year.
This year, Grease celebrates the 40th anniversary since its release in 1978. The movie has since grown to represent a cultural moment, becoming an instant smash success and the highest-grossing musical at that point in time.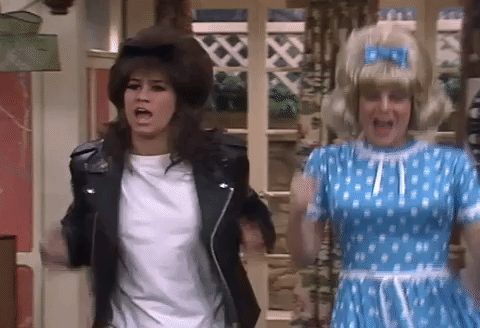 It seemed everybody was hooked on "Greased Lightnin'" then, but fast-forward to 1987, and the cast of The Facts of Life still seemed to be humming that familiar tune from one of the bestselling movie soundtracks in pop history. In a special episode called "62 Pick Up," The Facts of Life invited Bobby Rydell and Fabian on as guest stars and gave Blair, Jo, Natalie and Tootie campy Grease makeovers that nearly rivaled Sandra Dee's transformation.
The premise of of the episode is this: Bobby Rydell and Fabian show up at The Facts of Life house, which they tell Tootie they stayed in years ago. Tootie doesn't recognize the teen idols from the 1950s and turns them away. Later when she tells Beverly Ann who she met, Beverly Ann tells the girls a story about a girl group that got its start on a fatefal day back in the old days when Bobby and Fabian came to town.
What follows is a dream sequence that reimagines the cast of The Facts of Life as Grease's Pink Ladies. We see Jo as "Frizzo," Blair as Pinky, Tootie as Didi and Natalie as Frenchie, complete with nasally accents, plus polka dot dresses and leather and letterman jackets. Perhaps the best part of the dream sequence, though, is Cloris Leachman as the beatnik Mrs. Krebbs, who does not think there's anything cool about these cats from The Facts of Life.
In the episode, the girls form a band hilarious named The Sha La La La La La La La Las. They've written what Bobby and Fabian agree is a hit song, called "Hot Rod Lover." And in the end of the flashback, the girls get to join the boys onstage as backup dancers in yet another chortle-inducing choreographed routine in still more costumes. This is most likely the definitive episode of The Facts of Life for fans who love seeing the girls be as silly as possible.
We learn by the episode's end that the girl group went on to have a few minor hits before opening their own salon, The Sha La Chalet. Because when you're learning The Facts of Life, that apparently also means you can't be a beauty school dropout.
0 Comments
Be the first to leave a comment!